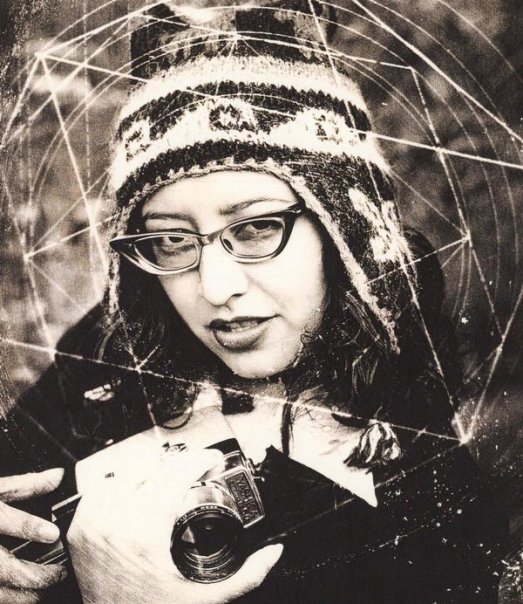 Projects by Pocha Peña
[Artist – Writer – Arts Advocate]
"Frontier Arts & Hybrid Culture."
Pocha Peña is an award-winning filmmaker and interdisciplinary artist who grew up among the artisans and performers of Disneyland, California. Being Chicana and Indigenous in the heart of conservative Orange County cultivated her skill at subverting pop culture imagery. She shot and aired her first MTV music video for punk legends The Vandals in the late 1980's, followed by a stint in Spain studying video art under Bill Viola and Nam June Paik. Returning to the US in the 1990's, Peña completed two degrees at UCSD in Visual Arts & Sociology, soon exhibiting her video art in museums and film festivals worldwide, and adopting the moniker "Pocha Peña" for all her screen credits. Peña attended the MFA program at UCLA's School of Film & TV, followed by a decade working on Spanish-language game shows, variedades, and promos for Spanish-language networks Univision, Telemundo and Fox Latin America. Concurrent to her production work and video art, Peña frequently writes, publishing her seminal "Pocha Manifesto" in Jump Cut film journal, Chon Noriega's Chicanos & Film and MacKenzie's Film Manifestos and Global Cinema Cultures anthology, and penned articles on films, art car shows, Day of the Dead for La Opinion, Tu Ciudad, OC Register and Chicano Art Magazine. Peña is a co-creator of Aztec Gold, a series of videos, live and graphic treatments of Lucha Libre, a co-recipient of the 2010 Warhol Foundation supported IdeaFund, founder of a multi-cultural film festival and co-founder of a media arts non-profit in her native Southern California. She also helped establish the City of Santa Ana's first Arts Commission, served as its Chair and ran for City Council in 2018. Currently, Peña is focusing on her Writing & Video Art in deep examinations of local lore, intercultural mythologies and the arcane structure of America's Democracy.
Una Pocha en Aztlan
Love in the Time of Coronavirus
Dreamocracy in America
A Creative Capital Project
Aztec Gold
Lucha Libre Series
Video Presentations & Workshops
Expert Media Support
Podcasts & Press
Interviews and Spotlights
Campaign Site
Santa Ana City Council
Book Pocha to present, consult, or engage on Latinx Issues, Media Arts, Border Pop,
Placemaking & TransNational Collaborations.
Whether you seek collectable Fine Art, engaging Writing, a fascinating Podcast, compelling Video, Production support, or dynamic Media Instruction, Pocha can help your creative concepts become a reality.
Connect via social media:
Follow Pocha on Instagram
Friend Pocha on Twitter
Friend Pocha on Facebook.